I've never lit a candle before for a clothing company, but, damn, Armani deserves some kind of higher calling recognition for hiring uber-sexy Megan Fox for their Armani jeans front-girl, wherein the mega-hottie former Transformers star seems to model everything but jeans in a thankfully never ending series of photoshoots and videos. Megan Fox lingerie-clad outtakes? Sign me up for eleventeen million of those. Her daily life may be heavily laden with ordering her unemployed husband on bagel and coffee runs, but when the lights go down and the cameras come on, nobody plays the sextastic game quite like Megan. Enjoy.
For all your Megan Fox sexiest film and TV moments, check out the Special Offer discount from Mr. Skin exclusively for Egotastic! readers: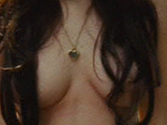 See all of
Megan's
nude scenes at MrSkin.com!