Okay, it's been a couple weeks for Macauley Caulkin taint to wear off and time for me to make my move on this newly single Hebrew School hottie, Mila Kunis, seen here in the upcoming edition of Cosmopolitan magazine, just looks better and better each time I see her. From ambitious lesbionic ballet dancer in Black Swan, to smoking hot hottie in Forgetting Sarah Marshall, I'm just smitten by Mila Kunis and I suspect she feels the same about me. Or, she will, once she's given up hope of being rescued from my basement stronghold. Usually takes about two to three weeks, with Dio's Holy Diver running on endless loop. Enjoy.
Note: The Man took away the amazing Mila Kunis in Black Swan from our site, but it is available on Mr. Skin, who is still offering discounts to Egtoastic! readers who enjoy such crazy thing as hot celebrities without most or any of their clothes: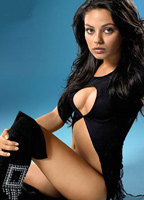 See all of
Mila's
nude scenes at MrSkin.com!