There's much to be said for Chloe Sevigny. Oh, sure, I mean, she can act. There's that. And puts her in the minority class among her celebrity cohorts. But today, I'm focusing on her pretty strong bikini body skills, I mean, I don't usually go-to Chloe Sevigny when I'm thinking about hot celebrity bodies, but these Chloe Sevigny bikini pictures from over the holiday weekend teach us that it's not all about talent, perseverance, and heart on the inside, sometimes it is just about nice boobs, a sweet butt, and toned body on the outside. I think it's important sometimes to remind ourselves to be more superficial. Enjoy.
Photo credit: bauergriffinonline.com / pacificcoastnewsonline.com / Fame
Okay, by popular demand (and a billion, 'oh, my god, did you see…' emails), here's Chloe Sevigny in one of her more (in)famous roles, performing what the kids like to call fellatio upon a fellow actor in The Brown Bunny.
Viewer Discretion Advised: there is man-junk and a making of the mouth-type sexy in this scene.
And, of course, you can still get the Egotastic! reader special offer from Mr. Skin and see every inch of Chloey Sevigny ever to appear on the big screen.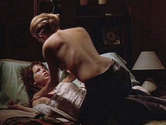 See all of
Chloë's
nude scenes at MrSkin.com!